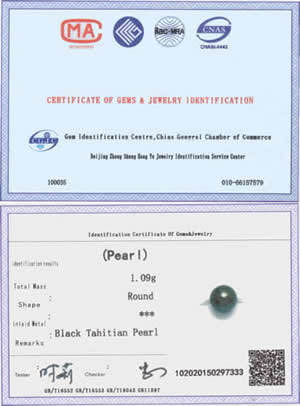 In the GIA and Dokuz Eylül University DGL value criteria, the most important factors that indicate a pearl's quality are its large size and a shiny, unblemished and round appearance.
In keeping with the pearl quality you desire, all the pearls in our store are gem quality.
Our Akoya Pearls are all graded AA+ and AAA, satisfying high quality standards with their perfect roundness, unblemished surface and lustre.
Our Freshwater Pearls have a higher lustre, a more regular shape and are more unblemished than other pearls sold on the market as 'freshwater pearls'.
Our South Sea Pearls come to you inside the oyster, and just as with the Akoya Pearls, we derive great pleasure from the knowledge that we were the first in the world to come up with this presentation idea.
Our Tahitian Pearls', sometimes called 'black pearls', are also presented inside the oyster shell, and we are proud to be the first in the world to offer our customers the product in this way.
From the day of its inception, our company has adopted the vision of producing quality products and delivering the best service, successfully exceeding the reliability criteria of our customers, just as we will continue to do in future.
The satisfaction of our customers is of great importance to us. This does not stop at the point of sale; we want you to continue to be happy with your purchase as time goes on and therefore make no concessions on quality workmanship and superior service.
We have chosen a workmanship that meets all the values we prize so that you can give those you love gifts that meet all the values you prize.
Silver can be thought of as a material that tarnishes quickly and only shines when polished. However, this is a result of cost-cutting leading to poor workmanship and the wrong process of rhodium plating on the jewellery surface.
An important influence on the price of gems is the high value of quality workmanship.
The Difference Made by 100% Non-Tarnish Silver

Even if you put rhodium coating on low value silver or gold, it won't shine like Oyster pearl brand silver. (The results have been seen by testing in our store.) The Rhodium Plating and Craftsmanship used in Oyster Pearl® specially handmade pure silver jewellery is only used by a limited number of brands worldwide.


Our Oyster Pearl® brand silver jewellery is top quality gem standard.

You can see the difference in quality when you compare the gold and silver jewellery sold by typical silver and jewellery stores with our products.
Oyster pearl® prefers e-commerce to the high price tags that accompany the huge expense of renting premises in a shopping centre or busy high street. Thanks to e-commerce, we can introduce every one of our customers to the quality of real gems at a reasonable price they can afford.
This is why we put every effort into making sure the quality that reaches you is the exact same quality that you see in the pictures. We use special techniques to make sure that you can see the quality of the gems in more real terms. We derive the greatest pleasure from knowing that you trust in our exceptional care in this area. Furthermore, if you do feel that the product you receive is not the same as the one in the image, we have no qualms at all about guaranteeing you an unquestioned refund.
In return for our experience in the sector and the trust that we are repaid with, we enjoy the great pleasure of being awarded accreditation certificates.
The products in our collection and offered to you on our e-commerce website are delivered with Guarantee Certificates that conform to international standards.
You can store your gems in the practical but elegant, stylish, specially-designed oyster-shaped casket, which is perfect for your gift.
RESEARCH AND DEVELOPMENT WORK
Known as R&D for short, research and development work is the term for systematic analytical work aimed at expanding the knowledge store built from cultural, personal and communal information, and the design of new processes, systems and practices to enable this knowledge to be used effectively.
R&D is the chief factor driving innovation-led growth in both companies and countries. That's why organisations that invest in R&D strive for continual improvement of their performance and production quality or creating new products and services.
Here at Oyster pearl®, we have aimed for continual creativity and continual improvement, in quality and service, from the first day of our adventure right up until the present day.
Our efforts to ensure that customers find something superior to whatever they initially had in mind constantly spur us on to raise the bar. Therefore, we continue to put effort into innovation and streamlining in every field, from production to online sales and even post-sales customer satisfaction, as we will always do.
PATENT AND QUALITY CERTIFICATES
All the pearls and jewellery available from us have certification from Dokuz Eylül University, DGL, GEM, TSE, The Patent Institute and an International Certificate.
GEM Certificate: this certificate specifies the pearl's identity details (characteristics) and is issued by a special government-approved laboratory. For the first time ever, South Sea and Tahitian Pearls have been offered for sale with the distinctively different presentation of Oyster pearl®.
Along with its products, the Oyster pearl® brand is guaranteed by the verification of the Patent Institute. If any individual, company or organisation is found to be using the Oyster pearl® brand without permission, legal action will be filed followed by criminal proceedings. The official registrations of the numerous designs that we have developed are similarly guaranteed.
So you can give the one you love the most special present:
We crossed the oceans to choose the most valuable, exceptional quality pearls from the blue depths...
We designed the most elegant, faultless jewellery, considering every tiny detail to make sure it will be cherished by you and the special people in your life.
So we're happy, you're happy and you make others happy...
So you can experience unforgettable moments and share them with others too...
We put together the most exquisite gift packages.
Oyster Pearl, the favourite choice for exquisite ideas!